Training and Support Resources
A dedicated team of technology trainers for our network and members to:
Set up the technology platform
Member on-boarding
The on-going training of "Why and How" to use the platform
Accelerate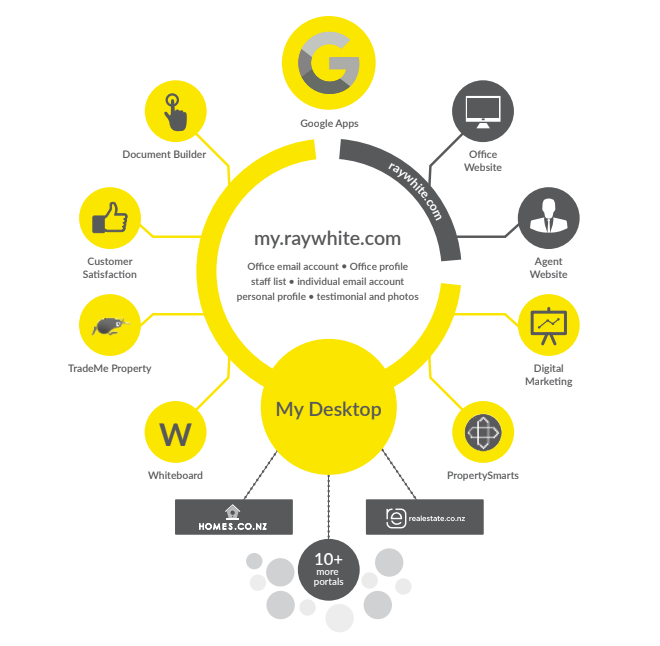 A sales training platform developed over the last five years based on three decades of real estate knowledge.
A series of learning and development modules
Digital Lead Management
In addition to our One System tools, we have a number of integrated partners we call One System Extra's to help agents
Virtual Assistants
An outsourced range of pre-built processes that offices connect to in the form of Virtual Assistants
(VAs).
A menu-based services suite has been created and all VA's come "Ray White ready".
Benefits to your business
Business leaders
• Reduce the complexity of running your real estate business
• A united platform to better negotiate with suppliers rather than have them divide and conquer offices as individuals
• Enhance the ability to recruit, train and retain quality staff
• No surprises due to simplifying IT software costs and positioning your business for growth
• Access to better information and timely reporting to help run your business more effectively
• One centralised support solution to service the core One System applications
• Mobilise your workforce simply and efficiently
• Secure, scalable and cloud based
• Ongoing updates and developments
• Improved online presence
Licensees
• Access to information from any device anytime
• Improved communication options to clients
• Quick and easy document creation for listing presentations and vendor reporting
• Agent specific websites for increased lead generation
• Automatic customer surveys putting you in control of your brand
• Local online strategies to keep your profile current in your market
• Ability to stay in touch with more clients by leveraging technology
• Mobile apps to assist at open homes and listing presentations, with property estimations made easy
• Buyer matches made easy with ready to use templates
• Self-paced training material for all members
Property management
• Secure and simple log in to all One System applications
• Secure cloud based storage of all landlord data for access anywhere, anytime
• Quick access to a world class library of property management business templates
• Access to property management reporting systems and key performance indicator tracking
• Mobile apps for property appraisals and inspections
• Ability to regularly survey landlords and tenants
• Real time rental data
• Professional presentation templates
Office administrators
• Easy onboarding and exiting of members in your office
• Ability to control security permissions across all One System applications
• Built-in real estate reports
• Ability to share calendars for effective team management
• Ability to create time saving email templates
• Structured online document storage for sharing with agents and office staff
• Template driven professional presentations from easy to use templates
• Automated end of month reporting on a range of sales results
• Training programs to develop your team
Join the Ray White Team
We are looking for genuinely committed business owners, salespeople (experienced or not),
property managers, and administration staff to join us